The Artists
Bayview Gallery represents the best land and sea painters of Maine, long known the world over for fine paintings. Painters have come to Maine for centuries to capture its beauty and to paint the light so special in this land. While all our artists do not live in Maine, those "from away" travel here throughout the year to paint this idyllic landscape.

Click on the name or image for currently available work and information about each artist.
Thomas Adkins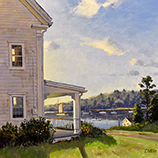 Subtle in color and strong in mood, the paintings of Thomas Adkins are characterized by the thoughtful process of composition using natural and man-made elements to evoke a true sense of place.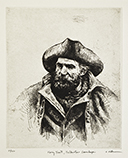 Gordon Allen Gordon Allen grew up loving art and the outdoors. By age twenty he was illustrating books in the sporting genre for New York publishers. An admirer of the etchings of Rembrandt, Allen learned that skill and continues to produce sporting themed images in this medium.
Barbara Applegate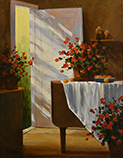 Inspired by the early American impressionists, Barbara Applegate paints the Maine coast, its villages and harbors and the foothills beyond. Her warm colors and classic design capture memories and evoke nostalgic moments in the life of the viewer.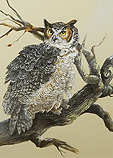 Julie Babb Julie Babb, born in New York City, was raised in Mexico City where her initial love of nature took hold. In the warm climate of Central America, she was surrounded with birds, animals and flowers year round which influence her artwork today. After years of honing her skill in classical drawing and color theory, Julie shows her work widely, as well as teaches art classes in her community on the Mid Coast.
Harley Bartlett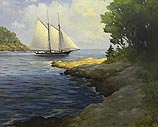 A Copley Society Artist since 2004, Harley Bartlett honors the late 19th - early 20th century American School of Beaux-Arts. Bartlett approaches his subject matter with careful regard and artistic vigor.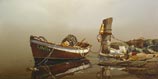 Vern Broe: Marine Paintings Vern Broe's (1930-2011) work has appeared in American Artist and other magazines, including three covers for Yankee. Broe, a noted marine artist, studied at the American Academy of Art and later attended the University of Illinois, Chicago's Institute of Design, and the San Francisco Art Institute.
Derryll Brudzinski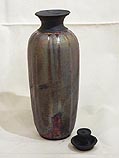 Master ceramacist Derryl Brudzinski transforms the raw materials of the earth into symbols of the forces of nature. Roughhewn texture blends with expressive color tempered by the mysteries of fire to create meditative pieces that delicately balance the utility of a vessel with the sensation of an abstract painting.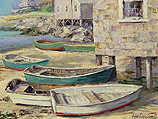 John Caggiano Born in Brooklyn, John Caggiano has lived on Cape Ann for more than 30 years. He travels extensively, usually painting on location. This plein air approach enables him to capture the essence of time and place. His paintings are further enhanced by the skillful use of a palette knife, enriching the effects of his brushwork.
Robert Colburn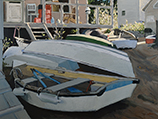 Maine painter Robert Colburn combines traditional painting techniques with a contemporary vision to produce vibrant paintings that recall the works of Edward Hopper and Fairfield Porter. Balancing color, form, and line, Colburn strives to make the oft-painted landscape of New England fresh and new.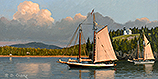 Ray Crane A graduate of the School of the Boston Museum of Fine Arts, Ray Crane has been a professional artist for more than 30 years. His work has been exhibited in museums and galleries throughout the US including the Smithsonian Institution.
Marsha Donahue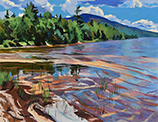 Maine native Marsha Donahue works in both oil and watercolor. Inspired by Winslow Homer and John Singer Sargent, Marsha's paintings exhibit a vibrant palette and lively, fluid brushwork.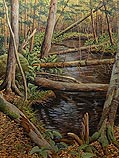 Laura Eden With paintings meant to trigger daydreams, Laura Eden's egg temperas recall a familiar feeling of place, giving the viewer a more intimate, yet, exaggerated perspective.
Louis Guarnaccia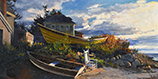 The marine art of Louis Guarnaccia has garnered critical acclaim throught the Northeast and the world. A member of the American Society of Marine Artists, the Portrait Society of America and the Salmagundi Club of New York City, Louis' painitngs capture the dynamic motion, color,and drama of sea and sail.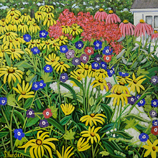 Suzanne Harden The vibrant palette of Suzanne Harden is reminiscent of the great French impressionists, Matisse and Cezanne. A former teacher of gifted and talented high school students, Harden paints the small villages along the Maine coast.
William Hays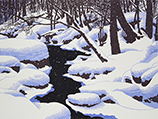 William Hays takes the simplicity of linoleum block printing to new levels with his beautiful and complex prints. Each of Hays' prints unfolds, color by color into a layered mosaic of carved shapes, carefully fitted into a composition that conjures a sense of mood and place dear to the heart of the artist.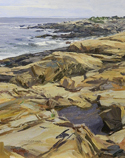 Tom Hughes After spending many years working entirely on location in every kind of weather, Boston native Tom Hughes has developed a comprehensive and flexible set of mental references which, combined with his superb draftsmanship, yield paintings embodying insightful and natural realism. Tom has won major awards for his work including the Plein Air Salon Art Competition Grand Prize from Plein Air Magazine in 2019.
Marieluise Hutchinson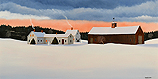 Copley Master, Marieluise Hutchinson spent her formative years in a bucolic 1820's homestead on the South Shore of Boston. She now divides her time between Yarmouth Port on Cape Cod and Cushing, Maine. Her work has a tone of thoughtfulness and solitude, and it is by a synthesis of these experiences that her work captures the quintessential simplicity and beauty of America. Her work is held in museum and private collections throughout New England.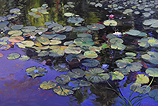 Jacqueline Jones Jacqueline's paintings summon ephemeral moments and emotions inspired by nature. Her rich color palette and lively brushwork capture the scents and sounds of the land: the rushing streams, rolling surf, rustling grasses and salted winds of coastal New England.
Stapleton Kearns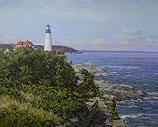 As a plein air painter, Kearns achieves a high level of truth in his work and an adherence to the way light and color actually appear in nature. A combination of low-key color along with expressive brushwork gives an elegant and reserved look to his paintings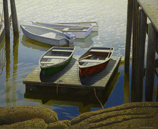 Loretta Krupinski Author, illustrator and American Society of Marine Artists Fellow, Loretta Krupinski is well known for her beautiful depictions of the Maine Coast, the classic schooners that ply its waters, and for her large body of historically based painting of Maine coastal industry.
Janet Laird-Lagassee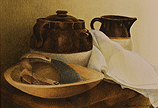 A Maine native, Janet Laird-Lagassee has received international recognition for her miniature watercolors. Also painting larger format watercolors and occasionally working in egg tempera, her subjects range from the vivid colors of summer's harvest to the subtle hues of antique interiors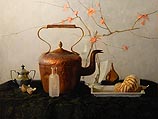 Gayle Levee Levee's paintings convey a sense of season and mood. After studying with renowned still life painter, Robert Douglas Hunter, Levee developed a style which embodies symbolism and metaphor through extensive exploration of color and composition
Holly Lombardo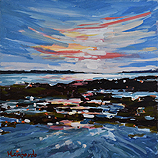 Holly Lombardo's formal training is in the sciences but she has always felt she was a painter at heart. Her colorful canvases are a combination of her experiences in nature and her scientific and observational skills.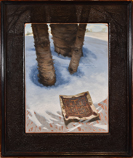 Jon Allan Marshall Jon Allan Marshall describes himself, modestly, as a regional painter very conscious of his New England roots. One can easily note his debt to the great Dutch masters of the 17th Century. He proves that the powers of perception that the Dutch developed to the highest peak of perfection are infinitely transposeable and that there is no end to their profitable application in new settings and locales.
B Millner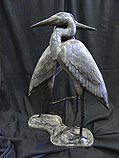 Coming to sculpture later in life, B Milner says, "My sculptures derive from a variety of sources - Aside from a rough division between human figures and wildlife, my sculptures don't lend themselves to categorization - I sculpt what appeals to me and moves me ."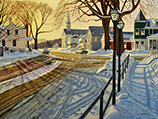 Kevin Mizner Kevin Mizner's "Americana" series stem from his love of history, and the timelessness of the Maine landscape. His desire is to show people caught in the motion of living on and working the land. He hopes these paintings serve as a reminder that we can still do for ourselves and each other with our own hands and a little sweat on our brows.
Scott Moore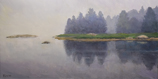 Contemporary impressionist Scott Moore lives, explores and paints the woods and coast of Maine. An avid canoeist and cross-country skier, his work reflects his deep love of nature. His bold, brushy paintings are the prize of many individuals and a number of corporate collections.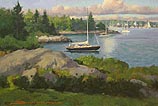 Donald Mosher (1945 - 2014) A descendant of shipbuilders and farmers of Nova Scotia and Maine, Don Mosher was drawn to the power of the sea and the tranquility of the New England countryside. A plein air master, Mosher visited Maine often to capture its beauty.
Charles Movalli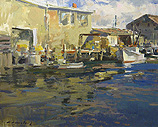 (1945 - 2016) "Simplification" and "expression" are the watchwords of Movalli's paintings. Starting with strong design and compositional elements, Charles is then free to allow exuberant brushwork and bold color to contribute their own unique voices on the canvas. In addition to painting, Movalli is a scholar and writer about the arts. His seminal works on Emile Gruppe and other significant Cape Ann painters for American Artist Magazine helped define the contributions to painting by these important regional artists.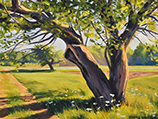 Wendy Newcomb Finding solace in nature with "the promise of life and harmony", Wendy A. Newcomb's (Sebago, Maine) palette conveys the magnetism of the environment; the colors are true to what she sees yet they hold a special vibrancy achieved by not only her understanding of color theory, but also her passion for what surrounds her.
Stefan Pastuhov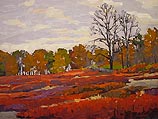 Descended from Russian grandparents who fled to America in 1917, Stefan Pastuhov is a devoted outdoor sportsman and a plein air artist whose paintings capture the landscape he loves.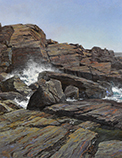 Phyllis Purves-Smith The daughter of musicians, Phyllis attributes her sensitivity to rhythm and structure in nature to her early exposure to music. She has taught extensively at the university level in both Manhattan and Philadelphia. In recent years, Phyllis has spent summers painting on Monhegan.
Dale Ratcliff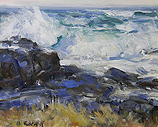 Gloucester, Massachusetts artist Dale Ratcliff travels throughout New England, from the mountains to the coast. Ratcliff's paintings capture her subject in bold, expressive strokes which imbue her canvases with the power and energy of the sea or the fleeting effects of light in the landscape.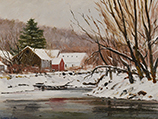 Sergio Roffo Italian-born artist, Sergio Roffo, born in 1953, has been inspired by the work of such American traditional painters as George Innes and Albert Bierstadt. Roffo's paintings of coastal landscapes reveal a luminous quality achieved through the technique of glazing and layering practiced by early American landscape painters.
John Roush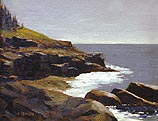 Award winning and nationally recognized artist John Roush has attained the status of "Master Pastelist" in the Pastel Society of America as well as the MidAmerica Pastel Society and has been accepted as a "Fellow Member" of the American Artists Professional League. He is a member of the Oil Painters of America, the Allied Artists of America, and Audubon Artists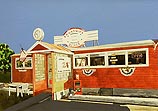 Deborah Rubin: Landscapes Using watercolor, acrylic, and oil, Deborah Rubin exquisitely captures the often banal imagery of seasonal places in highly rendered detail. Her combination of strong linear elements and crisp high-key color imbue these often overlooked subjects with an engaging power
Deborah Rubin: Florals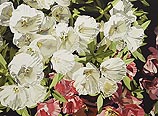 Precision draftsmanship, bright color, and adventurous compositions take Deborah Rubin's floral paintings out of the genre of still-life and give them an energy which makes them feel alive. Working in watercolor on clay-board and sealed with acrylic, these paintings break through the picture plane and grab the viewer's attention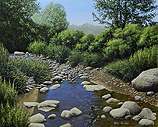 Helen Rundell Long Island native Helen Rundell, who has lived in Maine for more than a decade, is perhaps one of America's finest realist painters. Whether landscape or still life, Helen combines a thorough knowledge of her subjects with exacting technical ability to produce truly remarkable paintings.
Jeffrey Sabol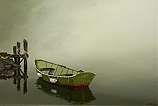 The serenity of Jeff's paintings transports the viewer to a place of quiet reflection. His work draws inspiration from his formal training in architecture, as well as countless hours spent on the water, both as a commercial fisherman and a recreational sailor. As a Signature Member of the prestigious American Society of Marine Artists (ASMA), Jeff has broadly exhibited his maritime paintings.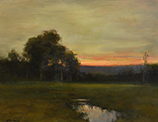 Dennis Sheehan Native Bostonian Dennis Sheehan received his artistic training in the tradition of the Boston Impressionist School, including private study with two of R.H. Ives Gammell's former students Robert Cormier and Richard Whitney. Sheehan's style of landscape paintings reminds one of the nineteenth century American Tonalist George Inness. His paintings are meditative, intimate and mysterious
Hodges Soileau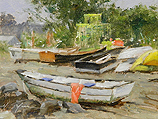 After a twenty-five year career in illustration, Hodges Soileau decided it was time to paint what he wanted. Quickly rising through the ranks of several prestigious arts organizations, Soileau is now a Signature Member of the Oil Painters of America, the American Society of Marine Artists and the Portrait Society of America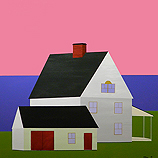 John Stass Formerly a designer of custom furniture, John Stass created lines for well established and often celebrity-clientele worldwide. Once again an independent artist, John paints acrylic on canvas, as well as creates sculpture using various media sculpting primarily in wood.
Joan Steinman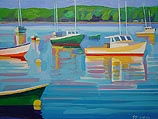 Joan Steinman uses the brilliant light and color of her environment to transform the simplest objects into scenes of wonder. She excels at discovering clarity of form from the complexity of nature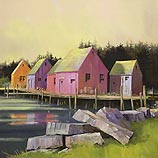 Paul Stone Alternating between vibrant color and muted, tonal images, Paul Stone creates paintings that are as much about the sense of a place as they are about specific locations. His powerful brushwork and diverse pallette, give his work a hauntingly familiar feel
George Van Hook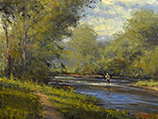 Born and raised in the Bucks County area of Pennsylvania, George Van Hook's early influences include Howard Pyle and the Wyeths but also American Impressionists like Frank Benson. Known for his impressionistic work painted on location, Van Hook states "I want the color to be beautiful and the drawing to be firm and secure".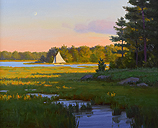 Sam Vokey Sam Vokey is an elected member of The Guild Of Boston Artists and has won the designation of Copley Master from the Copley Society of Boston. He is a graduate of Bowdoin College in Maine. His painting style is most closely associated with the Boston School tradition of painting which crosses Realism with some of the softer edges and painterly qualities of Impressionism.
James Wolford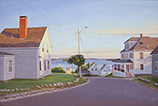 James Wolford frequently paints intimate portraits of rural, urban and coastal subjects, capturing the subtleties and intensities of light that exists for only a short period of time in the morning or late afternoon. His paintings evoke a strong sense of place and he often takes subjects considered mundane and transforms them by capturing their inherent beauty.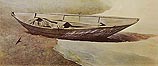 Andrew and Jamie Wyeth Legendary American painter Andrew Wyeth passed away in 2009 leaving behind some of the most endearing images of his life in Maine and Pennsylvania. His son, Jamie, continues this remarkable family's artistic legacy. We are proud to offer a selection of limited edition, signed, and signed limited edition prints by both artists. Each print is elegantly framed to conservation standards.
Doug Zider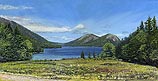 Turning to water for true inspiration, Doug Zider has studied plein air and composition painting. By applying field techniques to studio work, he relies on his eye and the understanding of nature's purposeful way to guide his artistry.